Keep a fork with you in case cake happens!
Come stop by at ours either at The Gardens Mall Mid Valley, or at our Dessert Café at Glasshouse at Seputeh. We look forward to seeing you!

Delectable Dessert Cafe
(807723-W)
Level 2, Glasshouse at Seputeh
17, Lorong Syed Putra Kiri
50460, KL


+6012 885 5280
Hours:
8am – 6pm daily
*Outside food & drinks not allowed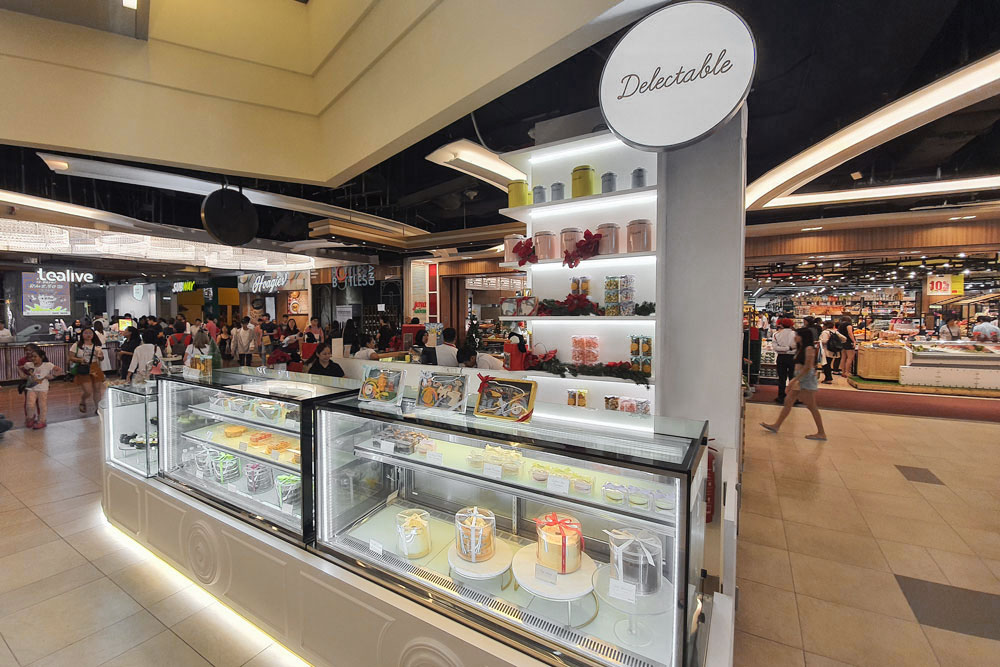 Delectable Kiosk
(807723-W)
LG K-25B The Gardens Mall,
Lingkaran Syed Putra,
Mid Valley City,
59200 Kuala Lumpur
Tel: 03 2201 1209
Hours:
10am – 10pm daily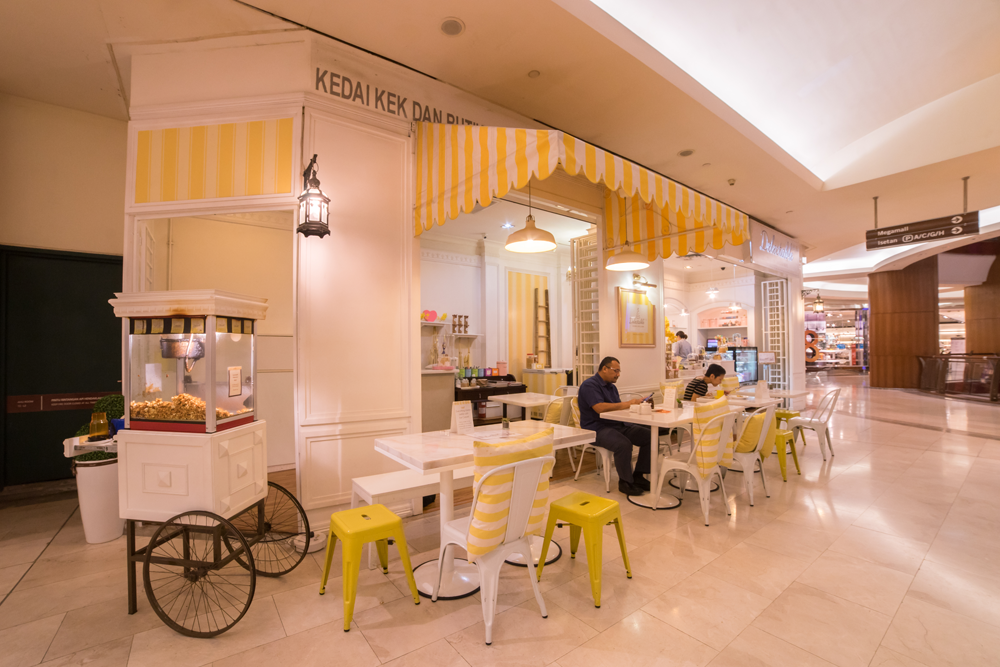 Delectable Mini Cafe
(807723-W)
Level 2, S-213 The Gardens Mall,
Lingkaran Syed Putra,
Mid Valley City,
59200 Kuala Lumpur


+6012 508 1855
Hours:
10am – 10pm daily
The Delectable Tea Set
Our most popular item, The Delectable Signature High Tea For Two is the perfect fun way to satisfy your cravings, and enjoy delicious treats and tea while catching up with your friends.
Only at the Delectable Dessert Cafe at Glasshouse.
RM90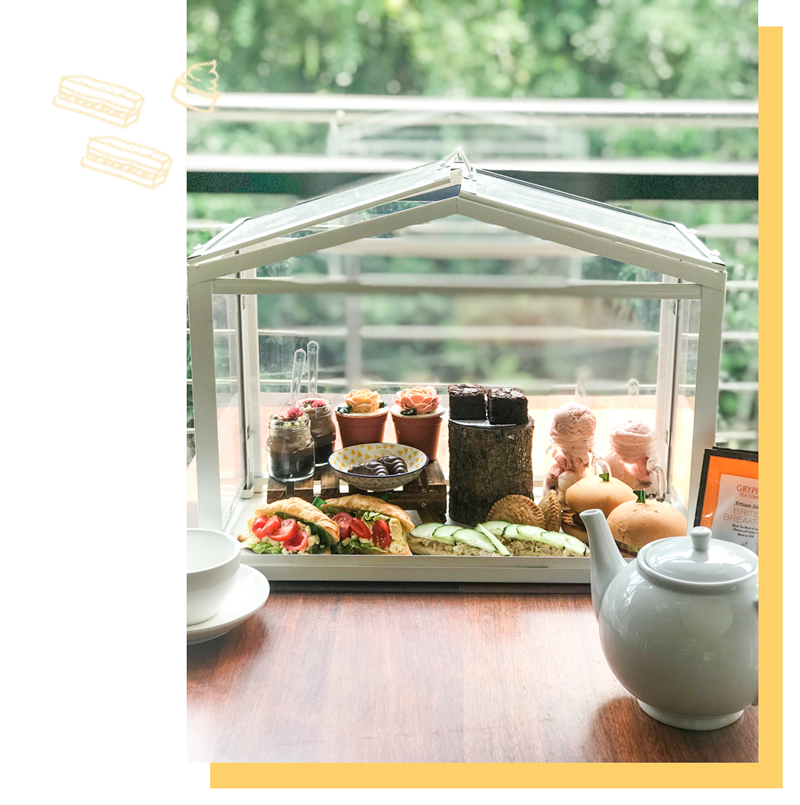 FREQUENTLY ASKED QUESTIONS
Do you use Halal ingredients?
Our cakes, frostings and fondant (from Bakels) make use of Halal ingredients. The gelatin we use is purchased from Malaysian bakery suppliers that is certified Halal.
How does your pricing system work? Why do you not sell per kilo?
Each of our cake type/flavour has a different ingredient composition and weight. Cake weight will also depend on the finished sculpted design. We take into account the design difficulty and intricacy as the overall time it takes us to complete your cake. The 'price by weight' system would be an inaccurate gauge for custom cakes as even small cakes can have a high amount of intricate detail that takes time and effort in finishing. Our quotation will be based on the serving size you need and your design requirements.
Do you accept overseas transfers?
We accept bank transfers, ATM and foreign telegraphic transfers (see below for account details). Email us a copy of the proof of transaction and we will issue a confirmation email/receipt when the transfer is complete.
Bank Account Details
Account number: 514486112846
Bank: Maybank Mid Valley Megamall
Branch number: 26304
Account Name: C.A.K.E. Sdn Bhd
How much does a customized cake cost? What about customized cupcakes and party tables or gifts?
Custom cakes start at RM400 up to RM1000++ depending on the size and design details. Customised cupcakes start at RM9 up to RM20 per piece, minimum order of 50 pieces. Price increases with complexity of design. We also custom cookies and various other desserts, let us know what you fancy and we will try our best to make it happen!
For custom cakes: Delivery service will only be provided for fully customised cakes over RM1000 that needs setting up at venue. Our quoted prices include delivery to your location.
For online orders: We do next day delivery for all purchases made online. Kindly note that our delivery time will be between 11am-2pm daily. For same day delivery, please go to delectablebysuhq.beepit.com and place your order there from 11am to 5pm daily (subject to stock availability). Our delivery partners will continue to practice contactless delivery and social distancing for everyone's safety; please meet them in front of your gate/designated pickup point.
*If you are sending a surprise gift, please provide the recipient's contact number so that we are able to let them know a surprise delivery will be on the way. Kindly double-check that the shipping information and delivery date is correct before proceeding with payment. Any change in delivery address/date must be done at least 24hours before the date stated in your order details; there will be an additional charge for change of this information on the actual date. If your number is an international number, please provide us with a local number to contact upon arrival at the delivery address.
We would like a cake flavour that you do not have available. Can you personalize my order?
Yes, definitely. If it can be done, we'll be happy to change it up a little for you. We're open to your ideas and requests. Please email your requirements to us at su@delectable.com.my.
Do let us know in advance if you and your guests may have allergies to certain types of food or ingredient. We do not currently have a gluten-free line of cakes, but feel free to voice your requests and we will try to have something specially made for you. We now have a super yummy VEGAN cake option, please click here to see the cake!
Do you do refunds / exchanges?
Following our company policy, we do not offer refunds in cash. Please drop us an email at su@delectable.com.my for any issues that arise and we will do our best to work out a solution with you.
To Your Doorstep
From our kitchen to your doorstep, delivery happens everyday from 11am – 2pm.
Our delivery service covers Kuala Lumpur, Petaling Jaya and surrounding townships of the Klang Valley.
Same day delivery not available.
We do not offer refunds in cash.
As of now, we do not accept any outstation orders.
For further enquiries, kindly email us at su@delectable.com.my.